Strikeology Sports Fishing Charters
Come join Captain JR Chalker and crew on your ultimate fishing adventure, aboard the Strikeology, a 53' Hatteras with a five-star safety rating from the United States Coast Guard. Setting out from the Ala Wai harbor, we'll soon have you out on the Pacific Ocean. As we go after the abundant Ahi (Yellowfin Tuna), Mahi Mahi (Dorado), Heibi (Short-bill Spearfish), Ono (Wahoo), Sailfish, (Kajiki) Striped Marlin and the 'King of the Ocean" Au (Blue Marlin). When she heads out, the Strikeology will make for the South West and East shores of Oahu, where the fishing is best! Along the way, we'll pass through several hot fishing spots. Make sure you keep your ears open for a REEL scream! Our Captain and crew have more than fifty-years of combined experience fishing these waters, we know where, when, and how to find the fish..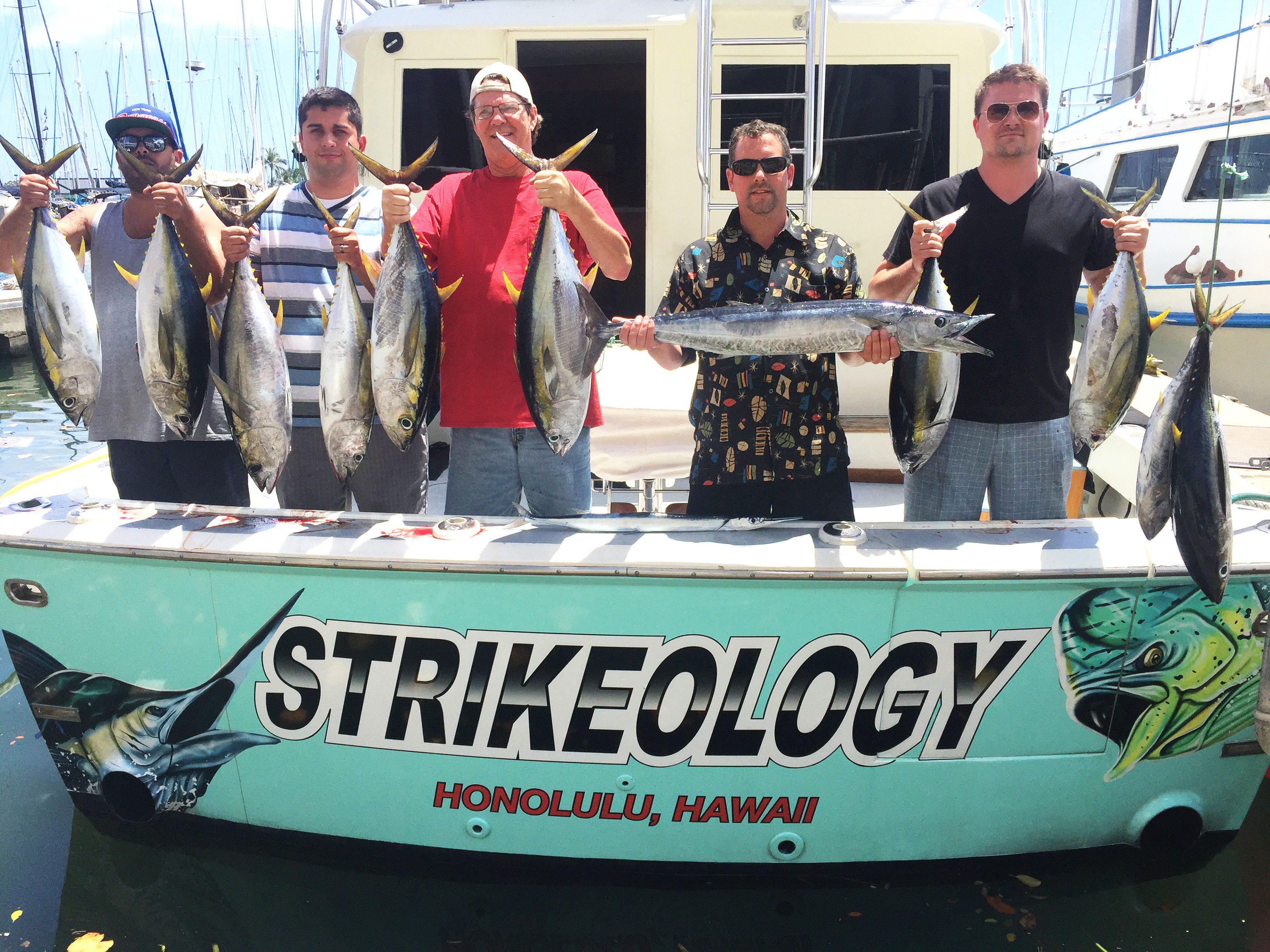 About the Boat
Strikeology is large and comfortable, offering custom rods equipped with Shimano Tiaga and Talica reels from light tackle to big game. If you're not a die-hard angler or just want sometime away from your lines, no worries, we also offer WiFi, a PS3, and air-conditioning. Even better, she is outfitted with Naiad stabilizers, which cuts back on the roll of the vessel, decreasing the occasional bouts of unpleasant sea sickness that can happen to even the most experienced angler. With that being said, she is the ONLY sport fisher on Oahu that has this feature. This is what makes the Strikeology so unique and comfortable. Docked at the Ala Wai harbor, Sports Fishing Charters offers the closest fishing charter to Waikiki, and is next to the world-famous Waikiki Beach. Most of the hotels on the beach are only a few minutes in walking distance from our fishing charter, making it an easy access for your day on the waters.
Strikeology Sports Fishing Charter Options
We offer both private charters and shared charters on the Strikeology, both with a maximum of six passengers; we also offer four-hour, six-hour, and longer charters. You choose how long you want to be out and which departure time works for you and your schedule. Please be advised that reservations are strongly recommended and that prime fishing times book fast.